Viagra Is Great, But It Won't Fix a Broken Relationship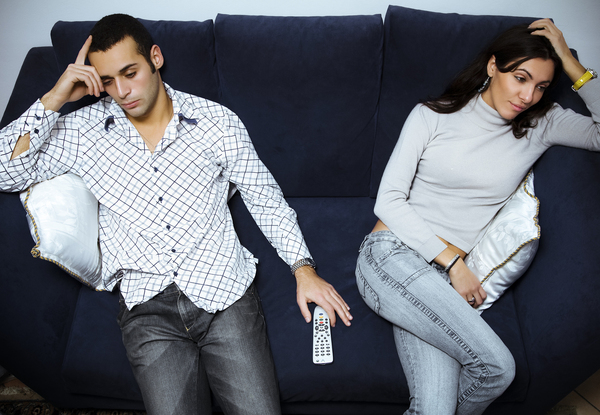 Relationships are built on a number of different factors, and when they begin to come apart it's usually because things are amiss on multiple fronts and not just in the bedroom.
Introduction
The introduction of Viagra in 1998 started a veritable revolution in the treatment of erectile dysfunction. In the years since, millions of men have come to view the little blue pill as a miracle drug, one that allowed them to regain erectile function at least temporarily. Viagra's introduction also made clear that the vast majority — roughly 80 percent — of ED is caused by compromised blood flow to the penis and is not primarily a psychological problem.
And Viagra is indeed a miracle drug when it comes to restoring erectile function in men who've lost the ability to achieve and maintain an erection on their own. However, it would be foolhardy to ascribe to Pfizer's revolutionary little blue pill any powers greater than those already described. If a relationship is in trouble for reasons that go far beyond problems in the bedroom, Viagra probably isn't going to resolve them and make things better.
If the relationship you share with your significant other is founded on sex alone, it's probably not much of a relationship, to begin with. But if it's in peril because you're finding it difficult, if not impossible, to get and keep an erection suitable for intercourse, then perhaps Viagra can save the day. Otherwise, you will have to search for help above and beyond a medication that restores erectile function.
When ED Strikes
Erectile dysfunction is more than just an occasional problem getting and keeping an erection. Almost all men encounter such problems now and again. They can arise because the guy is simply exhausted from stress in the workplace or even because the relationship has hit a rocky patch. Having too much to drink is also a common cause of erection problems, the kind that usually occurs only once in a great while.
However, full-blown ED is a persistent pattern of faltering erectile function, usually caused by insufficient blood flow to the penis. You may find that you can get a weak but serviceable erection at least strong enough to allow penetration, but it may not last long enough for the completion of sexual activity. In more dire cases, it becomes impossible to get much of an erection at all.
Sharing with Your Partner
Persistent problems getting an erection may be a purely organic matter, evidence that blood flow to your penis is not strong enough to achieve and sustain an erection. However, your partner may very well think that your failure to get an erection is somehow a reflection of your feelings about her. She may well wonder if you no longer find her attractive or simply no longer care to have sex with her.
To correct any such misunderstandings, it's important that you address the issue frankly. Tell her that while you might not be sure exactly what's causing your erection problems, it's definitely not because of her. Ask her for her help and understanding as you seek a solution to this physiological problem.
Seeing the Doctor
If you are experiencing persistent symptoms of ED, it's essential that you seek appropriate medical advice to hopefully pinpoint the symptoms' causes and determine what can be done about them. As mentioned earlier, insufficient blood flow to the penis accounts for up to 80 percent of all ED, but it's not the only cause of impotence.
Psychological issues can also cause ED. If fact, experts estimate that 10 to 20 percent of all ED is psychological in origin. In such cases, Viagra probably isn't your answer. Clinical depression and chronic anxiety, as well as more severe forms of mental illness, can cause ED. To regain erectile function, you'll probably need to undergo counseling to first identify the root causes of your illness. And more specialized counseling may be needed to resolve those problems so that you can regain normal erectile function.
In the case of depression, it would be nice to think that popping an antidepressant would be sufficient to recapture your mojo, but it could make things even worse. Many antidepressants are themselves the cause of male impotence, so the wrong pill coupled with your underlying depression could conceivably exacerbate the problem.
'It's simplistic to think that fixing an erection issue would solve relationship issues. Happiness is very complicated, and erections are just one small piece of it . . . a lot of couples still need additional therapy.'
— Andrew Kramer, Urologist
University of Maryland Medical Center
Viagra's Powers Are Limited
To better judge the medical properties of PDE5 inhibitors such as Viagra, researchers Marita P. McCabe and Stanley E. Althof undertook a scientific review of data from studies that looked at the psychosocial effects of these drugs, both before and after they were taken for a period of time.
They identified 40 studies that met their criteria, covering men who "reported relatively good quality of life and overall relationships, but poor sexual relationships and sexual satisfaction, diminished confidence, low self‐esteem, and symptoms of depression."
After treatment with PDE5 inhibitors, the men reported significant improvements in all of these criteria except for overall relationship satisfaction and overall life satisfaction.
In the conclusion to their review, the researchers called for further studies "to better understand the mechanisms underlying the reciprocal relationships among physical and psychological functioning in men with ED."
What Can Be Done?
Interviewed by LiveScience.com, Andrew Kramer, M.D., a urologist at the University of Maryland Medical Center, was asked for his thoughts about the review conducted by Althof and McCabe.
He said the results indicate that couples facing both ED and relationship problems should probably consult both "someone for relationship psychosocial issues and someone [else] for physical issues."
"It's simplistic to think that fixing an erection issue would solve relationship issues," said Kramer. "Happiness is very complicated, and erections are just one small piece of it."
Buying Viagra Online
If you need Viagra or its generic equivalent, sildenafil citrate, to help overcome your symptoms of ED, you'll need a prescription to buy the drug. If you have a script from your regular doctor, you can get it filled at the corner drugstore or use it to order the drug from a reliable online facilitator such as eDrugstore.com.
If you already have a prescription but would like to order the drug from eDrugstore, you can fax the script or scan and email it along with your order. If you don't yet have a prescription, eDrugstore can set up a complimentary online consultation with a licensed U.S. physician who can authorize a prescription if appropriate.
To learn more, visit eDrugstore's Erectile Dysfunction page.